IST ANNUAL GALA  DINNER & AUCTION!
Join us on Saturday September 24th, 2022 at the Hampton Conference Center, Maryland Wa as we celebrate with other Africans under one roof.
The first Afifat Gala dinner night is a prestigious event attracting African Immigrants in the North America and beyond.
The event promises to be an unforgettable night of opulent fashion, spectacular music, phenomenal performances, a parade of beauties, a convergence of the glitteratis, and a time to break the stigma and taboo happening in our community.
Our beautiful selection of contestants from Miss Ebony World will represent the 54 African Countries in 4 segments: The Social platform, The Traditional Dress, The Talent Competition and The Evening Dress. Each segment will be carefully scored by the Judges to reveal one deserving young woman who truly have a voice to add to the conversation.
The catwalk by African Fashion Week North America will promote the richness of our continent.
Dress Code: Strictly a Black Tie Event
Time: 6pm (Red Carpet)
7pm (Show Starts)
Venue : The Hampton Conference Center, Maryland Wa
Address: 207 W Hampton Pl, Capitol Heights, MD 20743
Refund Policy: No Refunds.
All Sales are final
Hotels: Kindly reserve your hotel 3 to 4 months in advance.
For sponsorship/Partnership/ Collaborators/ vendors inquiries Contact us: www.weafifat.org/ (978) 572-0940
Model, Designers & Contestants Casting call!!!
The African Immigrant Families Together is partnering with Mother Africa, on this project "
Domestic Violence & Mental health
Sponsored by The Group health Foundation.
Join us on Saturday August 21st, 4pm at 1209 Central Ave S #120, Kent, Wa, 98032
This will be a conversation during which professional mental health specialist will hear, educate, provide and suggest solutions to young woman in the incapacity of facing society after going through crisis.
This event will help us make significant progress to achieving our goal in building self-esteem and self-confidence to those affected.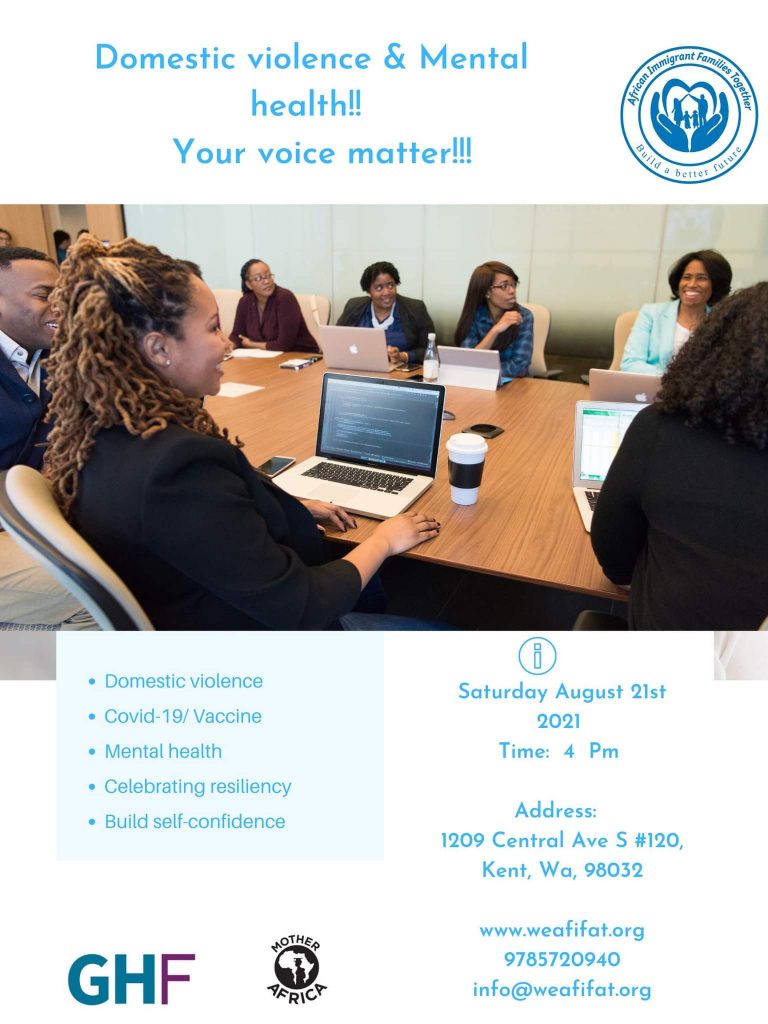 Community brings us all together!
📣
The African Immigrant Families Together is hosting yet another educational conversation to highlight some of the most challenging situations we have experienced since COVID-19.
We have invited some of the great and experienced community leaders to elaborate more on several topics like Sexual Abuse, Childhood Trauma, Domestic Violence, mental health, COVID-19 Vaccine, our goals and more.
Mark your calendar for Saturday June 26th at 6pm Est, which is 3pm Vancouver BC and Washington State time.
 The Month of April is Child Abuse Awareness and Sexual Assault Awareness Month.
The African Immigrant Families Together is hosting a series of trainings to highlight the intersection of Child Sexual Abuse with other social issues, including Children Trafficking, Childhood Trauma, and Domestic Violence.
Josias will be live on Zoom on April 25th, at 9pm!
This is a great opportunity to get some learn and ask questions!!
Jump on & let your friends know about this event. 
Topic: Financial Literacy 
-The importance of good credit 
-How your credit score is calculated 
-the laws that protects you 
Credit vs cash which has more volume
-paying the minimum payment vs paying the statement balance
Josias Jean-Pierre is a Haitian immigrant born in Haiti but grew up in Sea-Tac, WA. He's a motivational speaker, entrepreneur, and a licensed Board Certified Credit Consultant where he teaches the laws pertaining to credit and how it protects consumers. He also has helped hundreds of consumers see a shift on their credit report where they were able to have their buying power back. Jean-Pierre has been featured on Yahoo Finance, New York weekly, LA Wire, & The American Reporter and his vision is to see people flourish and grow with no limitations.
The African Immigrant Families  Together's board of directors will hold their next meeting on Friday , April 30th, 6:00 p.m. PST.
Due to COVID-19, the board is holding meetings online via video calls.
For information on instructions for how to view this meeting, get to know about our 2022 objectives, contact Patricia at 978 572 0940.
To ensure access to view this meeting, please call 24 hours in advance.
We are glad to announce our partnership with Washington Awareness Project.
From April to July 2021, The African Immigrant Families Together and Washington Awareness Project are joining hands in positively impactinh the community.
Join us, share your experience (only for 30 minutes) during this pandemic, and get paid $50.
Afifat seeks to break the stigmatisation of Mental health in the African diaspora. We address sensitive topics by identifying, assessing , discussing and recommending solutions to resolve
marital conflicts as well as conflicts leading to separation, violence and their negative impacts on the children. We want to ensure that our community does not suffer because of lack of information. In that respect, as a social justice organization and in an effort to keep our community safe, we want to raise awareness on public safety.
Contact us today, and/or refer a friend.
Phone number🔻(978) 572-0940 🔻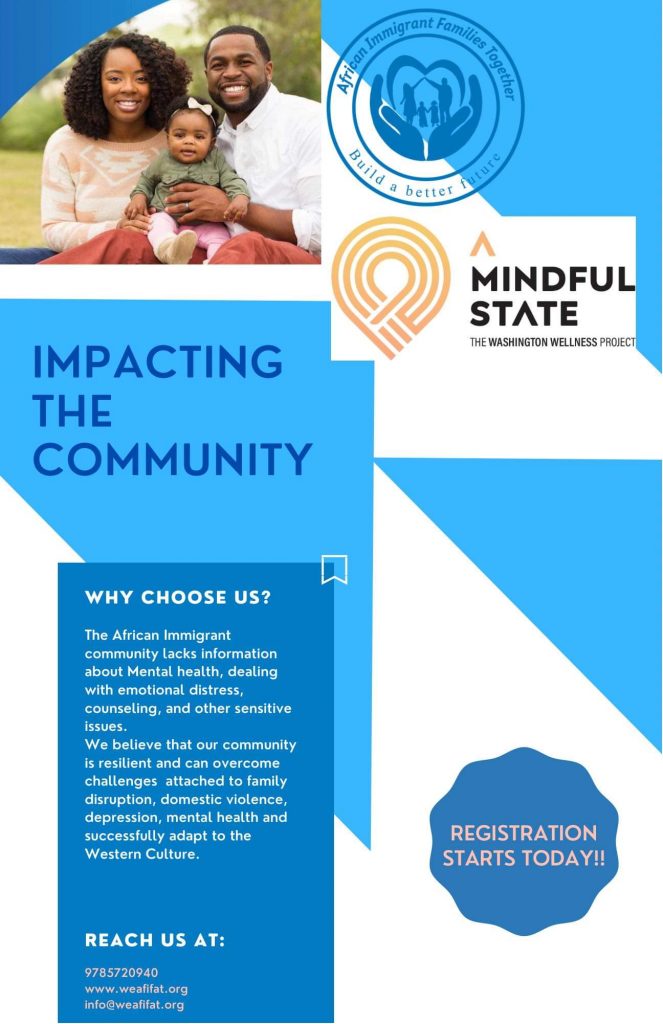 AFIFAT engages in various activities in the African Community designed to build social
network, promoting African Entrepreneurship/Investment, conducting workshops, Men's
support group, Women's group, Live presentations, Sport activities. Other activities
include Employment Training, French and English classes, Computer literacy.