TUESDAY, 11 OCTOBER 2022 AT 06:00 UTC+05
World Mental Health Day
It's not enough to check for your genotype, your blood status before marriage. You should also check mental health status too. Domestic violence, abuse are a function of mental illness/disease of the mind.
When your mental health is affected, it alters your productivity…
Your mental health should be your PRIORITY!!!!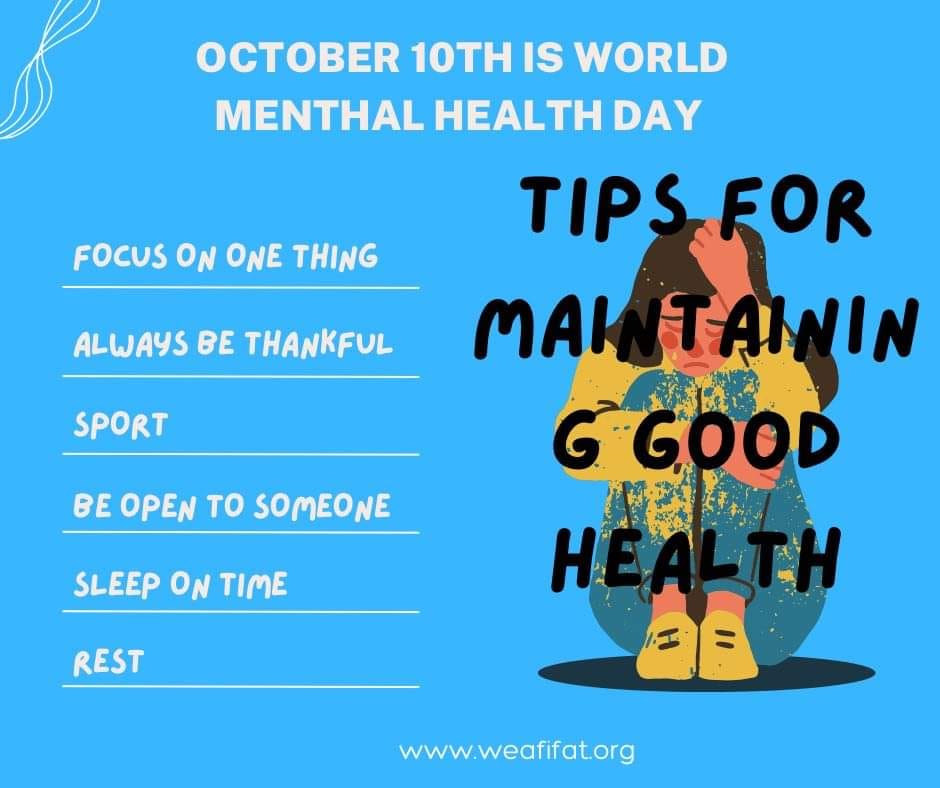 IST ANNUAL GALA  DINNER & AUCTION!
Join us on Saturday September 24th, 2022 at the Hampton Conference Center, Maryland Wa as we celebrate with other Africans under one roof.
The first Afifat Gala dinner night is a prestigious event attracting African Immigrants in the North America and beyond.
The event promises to be an unforgettable night of opulent fashion, spectacular music, phenomenal performances, a parade of beauties, a convergence of the glitteratis, and a time to break the stigma and taboo happening in our community.
Our beautiful selection of contestants from Miss Ebony World will represent the 54 African Countries in 4 segments: The Social platform, The Traditional Dress, The Talent Competition and The Evening Dress. Each segment will be carefully scored by the Judges to reveal one deserving young woman who truly have a voice to add to the conversation.
The catwalk by African Fashion Week North America will promote the richness of our continent.
Dress Code: Strictly a Black Tie Event
Time: 6pm (Red Carpet)
7pm (Show Starts)
Venue : The Hampton Conference Center, Maryland Wa
Address: 207 W Hampton Pl, Capitol Heights, MD 20743
Refund Policy: No Refunds.
All Sales are final
Hotels: Kindly reserve your hotel 3 to 4 months in advance.
For sponsorship/Partnership/ Collaborators/ vendors inquiries Contact us: www.weafifat.org/ (978) 572-0940
Model, Designers & Contestants Casting call!!!
SATURDAY, 8 OCTOBER 2022 AT 03:00 UTC+05
Support for Olivia and her family, breast cancer and brain cancer survivor
Hi my name is Christelle Patricia Tsakou and for my birthday today I am fundraising for Olivia. the fundraiser will go for the whole month of October.
Olivia has been battling cancer since 2019. She overcame breast cancer but later was diagnosed with stage four brain cancer. Olivia received surgery to remove cells from her brain however the tumor is still there. Throughout Olivia 's journey she has remained optimistic. She has made it her mission to help others even in her difficulties. This is so inspiring to everyone around her as she cooks and does fundraising for so many in need.Not only in her local community but even around the world to Liberia Africa. Where is she took a mission trip after surviving breast cancer. Olivia fills her days cooking and selling food to raise funds for her nonprofit that she recently opened. 
This organization is dedicated to helping single moms and those battling cancer here and around the world. These are the very things she has faced herself so many times as a single mom without many resources. "Let the Light Shines" was inspired because Olivia saw when she put a little light in someone's life it made a big difference.
I have decide to give Olivia an opportunity to share her story with our community today.
By donating to the GoFundMe page below you will help her support her family and face her struggle getting her daughter to school ,as her brain has recently been swelling. Walking and doing basic life duties such as cooking ,cleaning ,and shopping have become a real struggle.
All Olivia wants to do is help others and give back.
Now to see her in a place where she needs help ,is heart breaking.Not knowing what tomorrow holds, Olivia is keeping the faith and hope to be back to what she loves doing ,which is helping people. In the meantime Olivia is going to need a lot of help to care for her kids financially.
Please reach out put your arms around this family.
#africanimmigrantfamiliestogether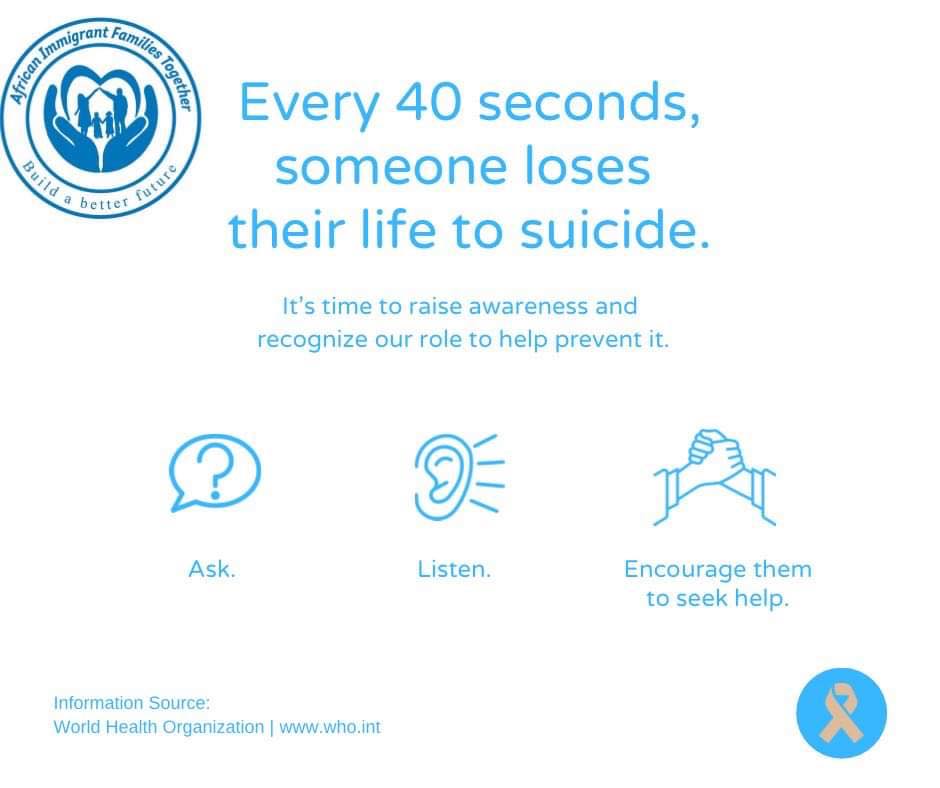 SUNDAY, 25 SEPTEMBER 2022 AT 06:00 UTC+05
Suicide Prevention awareness

September is " National Suicide Awareness " Month.
Join us for this educational workshop as we raise awareness on this silent epidemic.
We will be discussing Mental Health, Suicide Awareness, and Prevention along with ways to be an advocate for those you love in your neighborhood.
SUNDAY, 20 FEBRUARY 2022 AT 06:00 UTC+05
Black History Month

In an effort to strengthen the Black community's resilience, we are inviting all Africans descents to take part of this conversation.
" From the rough".
This is going to be a time to advance awareness and understanding of the richness and diversity of African culture and traditions as well as an opportunity to discuss about the history of black people in America from 1619-2022.
Our guest speakers, as leaders and role models themselves, will cram 400+ years of history in one-hour programs, highlighting the accomplishments of a few without providing the proper context.
Join us for this informative overview that you can use to build your knowledge of the history of black people in America.
We, as One Big Family are hosting a one-day gala to celebrate our 1st Edition of our annual indoor fundraiser dinner gala.
Find out more at 
www.weafifat.org
MONDAY, 7 FEBRUARY 2022 AT 06:00 UTC+05
Financial Literacy
Super proud to announce that our kick off event on Financial Literacy campaign starts this weekend!!!
We have invited some key Speakers who are Committed to provide free financial workshops twice this month of April.
Financial Literacy is an issue that demands our attention because most families are not adequately prepared for their kids college education, an emergency or their own retirement!
Let's get ready.
Come join us this Sunday February 6th at 8pm Est for our FREE workshop on Retirement Planning, Wealth Preservation and business plan.
Topic: Financial Literacy
-The importance of good credit
-How your credit score is calculated
-the laws that protects you
Credit vs cash which has more volume
And more….
#weafifat